Igoldencnc, in response to the epidemic, now sells epidemic prevention materials to the world through regular channels
Views:21 Author:Site Editor Publish Time: 2020-04-20 Origin:Site
In 2020, a disaster for all mankind will come. As the first outbreak country, China will work together to face this disaster. Igoldencc, as a professional equipment manufacturer, has meticulously developed disposable masks and N95 masks to cope with the shortage of masks.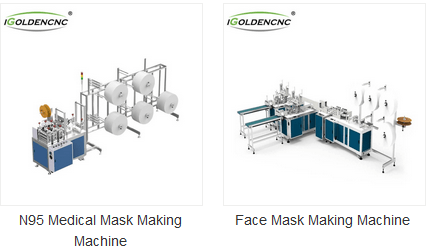 As we all know, the epidemic situation in China has come to an end, but it is still spreading all over the world. It is still a human disaster. As a developing country, China's manufacturing industry is quite strong. The Chinese government has donated a lot of materials to the world, but it can't meet the needs of a large number of people. Therefore, igoldencc has now been sold to the world through regular channels Epidemic prevention materials, including: protective clothing, ordinal disposable masks, N95 masks, disposable latex flowers, handled hermometers, goggles, ear strips, nose bridges, disposable working caps, medical trash cans, disinfectants, etc


We will sell these materials at the market price. With our regular channels and qualifications, you can buy them at ease. In addition, we can guarantee the quality of these materials. Igoldencc believes that in the face of human disaster, we will save effort as long as we unite together.

For those who want to make money, sell low-quality materials and sell at a high price, we believe that they will eventually Be severely punished.