ATC CNC wood carving machine is also called automatic tool change CNC wood carving machine. It is a basic ATC CNC machine tool that can automatically change the movement of the tool magazine together with the tool post. It has higher efficiency and speed than ordinary CNC routers.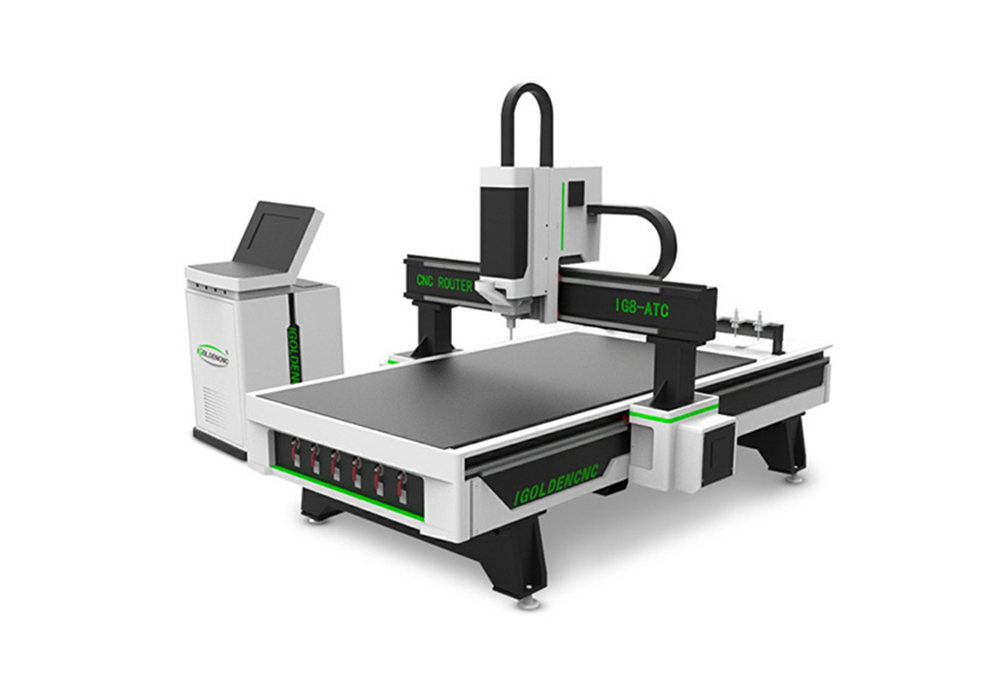 Materials of cnc wood router :
Does a CNC router cut only woods? The answer is NO. It can cut only hard materials like woods. Apart from this, a CNC wood router can not cut metal because the strength of the CNC wood router is not enough for the metals. However, CNC router can drill not only the woods but also acrylic, PVC ( Polyvinyl chloride) board, Double-color board, MDF (Medium-density Fiber), Marble, Fireboard, Rubber board, Glass, Crystals, etc.
How to choose a CNC wood router machine?
Can we make all the wooden designs on the same routing device? Of course, No, right? The Particular Device can perform different jobs. For example, to make a digital drawing on the door, can we make it using the mini CNC router? No. Because the power is not enough to engrave such elements. So, we must follow some guidelines to ensure that our demands go with our desire.
Features of ATC CNC wood router:
ATC CNC wood router machine is also called automatic tool change cnc wood router machine. It is a basic ATC CNC machine tool that automatically changes the tool magazine movement together with the tool post. It has higher efficiency and speed than ordinary ATC machines.
1000W high-power servo motor: The action characteristic of the servo motor is to perform position positioning control and action speed control. Its main feature is that the speed can be accurately controlled, the speed control range is wide, and it can run stably and smoothly at a constant speed, and the speed can be changed at any time according to demand. And it can instantly generate large torque within the rated capacity, with large output power and high efficiency.
High precision reducer: The reducer has the advantages of small size, lightweight, strong load capacity, long service life, high reliability, low noise, large output torque, and high efficiency.
High-power automatic tool change spindle: The high-power automatic tool change spindle improves the efficiency of automatic processing, has a long service life, and is suitable for processing wood, aluminum, etc.
The ATC CNC Router automatic pusher device of this CNC Router machine increases productivity in reduced cutting times and costs, it is more convenient to upload the workpieces. After cutting the plate, it can automatically unload (push the cut material away), which improves the processing efficiency.
The high-precision ball screw and Taiwan Haven linear square guide rail move smoothly to ensure machining accuracy.
Equipped with a control system, suitable for beginners: you can easily view the processing path.
NC Studio Controller, humanity PC Controller, you can see working project simulation from the controller. NC Servo motors with accuracy and resolution.
Customized vacuum table: it can be 1300 mm*2500 mm, 1500*3000 mm, 2000*3000mm, or other sizes that suit you.
Automatic tool change magazine: The automatic tool change magazine can hold 8 units, which will take the shortest path between any two tools, making the fastest possible charge time.
CNC wood router product application:
Woodworking industry: three-dimensional wave board processing, cabinet doors, solid wood doors, process wood doors, children paint doors, screens, process windows processing, shoeshine machine, games cabinet and panels, computer desk and panel furniture products auxiliary processing.
Advertising industry: advertising signs, signs production, acrylic cutting, plastic molding, the production of a variety of materials advertising decoration.
Other industries: can be carved a variety of large relief, widely used in the craft gift industry.
Equipment advantages of CNC wood router:
1. The bed is firm, rigid, accurate, reliable and durable.
2. Y-axis is driven by double motors and matched to ensure smooth operation.
3. Unique multi spindle design, according to customer needs to choose the number of head and motor power, and according to the workpiece free section head spacing.
4. CNC computer control, efficient automatic processing, for you to greatly save production time and investment costs, improve production efficiency.
Description
Parameters
Working area
1300*2500*200mm
Spindle
ATC 9KW air cooling spindle
Inverter
Fuling
Motor
Dorna servo motor and driver 1500W and shimpo Reducer
Driver
Dorna servo motor and driver 1500W
Control System
LNC
Table
Vacuum and T slot table with 5.5kw cooling pump
Oil lubrication
Automatic lubrication
Limit
Omron limit
Transmission
XY axis helical rack Z axis Taiwan ball screw
Rail
X,Y,Z axis Taiwan HIWIN Square guide rail
Screw
Z axis TBI 3210 ball screw
Bed
Thick steel welded big square tube
Gangry
Strong frame
Pillars
Steel pillar
Cabinet
Independent cabinet
Voltage
3 phase/380V
Dust collector
Double bags 3.0kw
Tool library
Automatic up and down
*Some specifications can be customized upon request, please contact us